The 4000 square meter enclave is located along the Eco-west Drive right next to SM City Davao. It is nestled in the prime residential community of Ecoland Subdivision just south of the City's Business District. Conveniently accessible to work, business, schools, churches, recreation and all the perks and good life in the heart of Davao.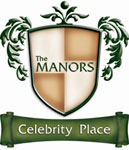 Nestled in a posh residential area and in close proximity to the country's top universities, The Manors at Celebrity Place creates a prestigious environment to live in.
Relaxation at nearby fairways. Rejuvenation at the Spa. Fine dining by the poolside, anytime you feel like it.
Owning a residence at The Manors is like gaining your very own luxury estate. With automatic membership to the exclusive Celebrity Sports Club, your residential masterpiece lies in the center of everything.
CYPRESS TOWERS
GLASS... STEEL... STONE... POSITION... POWER... SUCCESS...
A sleek and contemporary high-rise enclave that befits your status in life. You've definitely arrvied at your Place.
CYPRESS TOWERS... FOR TODAY'S MODERN LIFESTYLE.
RAYA GARDENS
Your urban sanctuary...
Amid the bustling metropolis lies a Bali-inspired sanctuary that befits your dream of a serene tropical utopia.
Developed along the Balinese concept of "raya" which means "great", Raya Garden Condominiums gives city living a totally new meaning.
Discover Raya Garden Condominiums.
ROSEWOOD POINTE
Business and leisure..
Family and career..
Old and new values in perfect harmony.
Classy resort ambience in the center of everything, where life is in perfect balance...
only at Rosewood Pointe.
Where everything meets in perfect balance.
CITYLIGHTS GARDENS
In the Hills of the Hawk, 136 meters above sea level, known to the Cebuanos as Nivel Hills, rises Cebu's most sought-after residential condominium, Citylights Gardens.
Hills of grass, the silvery Visayan sea, Mactan's white sandy beaches, spectacular Quenn City of the South!
A luxurious condominium in a sprawling master-planned community where modern day comforts blend with the tranquility of lush gardens and natural surroundings...Enjoy the top of the world feeling and experience a different view of life.